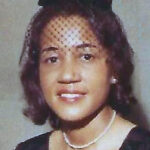 Virginia Howard Bartley, age 89 of Hamden, CT, entered into eternal rest on March 27, 2020. She was born on November 4, 1930 in South Carolina to the late Eugene F. and Sallie Mae Howard.
She leaves to mourn her loving sisters, Carrie Reed, Edith Burgess, Minnie Collins, Elizabeth Howard; a brother, Vernal (Helen) Howard. She is also survived by many relatives and friends, as well as a brother and sister-in-love, Senator Kay Patterson and Mrs. Jean Patterson.
She was predeceased by her husband, Ervin S. Bartley; siblings Eugene Jr, Willis, Clarence, Norween, Ernest and Rev. Timothy Howard.
A graveside service will be held at Beaverdale Memorial Park, with Rev. Elvin Clayton officiating.
In lieu of flowers, donations may be made in memory of Virginia H. Bartley to Walker Gamble High School Scholarship Fund, WGHS Alumni Association, Inc., P.O. Box 335, New Zion, SC 29111.